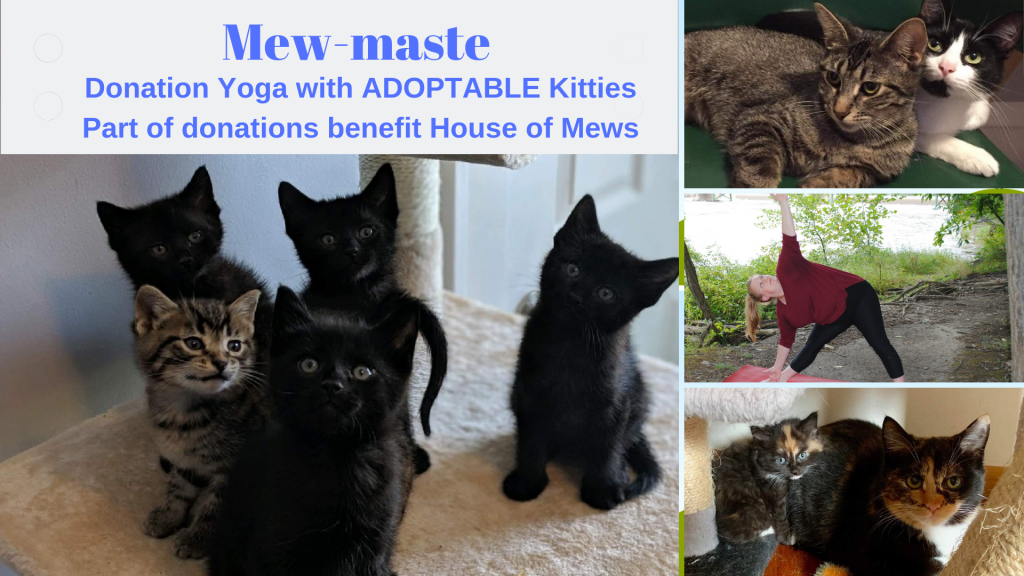 Join Leah for a light hearted, gentle practice (suitable for all), surrounded by "warm kitties, soft kitties, little balls of fur*". House of Mews Rescue** will be here with adoptable cats and kittens who will join us in the practice space. Stay after and apply to adopt** your favorite furry friend, or just for snacks and socialization.
When: Saturday, June 29 at 10am (practice is 1 hour long)
Where: Shanti Yoga Love, 10 E. Main St., Geneva, OH 44041
Cost: Love Donation ($10 suggested, all amounts graciously accepted)
Event Only pass specials will be available to attendees (or as an add on when you register through Eventbrite). 10% of these sales will benefit House of Mews Rescue: Get a 6 class pass for $50 (regular price $75) or take $10 off of your healing arts session when you register and pay at the event.
Registration: Use the links below or register on the Facebook event page (Shanti Yoga Love) or Instagram profile (@lvhartmanyoga).
Main schedule site (find under Events): https://www.schedulicity.com/scheduling/SLDRT6
Eventbrite: https://www.eventbrite.com/e/mew-maste-yoga-and-cat-adoption-tickets-62002460027
*Excerpt from "Warm Kitty" used with permission from Willis Music Co.
**For information about adoption requirements or House of Mews Rescue, visit http://houseofmewsrescue.org .