Classes available in studio or stream live via Zoom (register to hold your spot or get Zoom link). Full schedule available in person to current students and pass holders. Most classes & events available via livestream, too. See gift certificate page or links on this page for gift certificates by denomination or limited time pass specials.
To pre-register for donation or karma-price classes (studio or Zoom), add a preset donation option to your cart, send donation by PayPal https://www.paypal.com/paypalme2/shantiyogalove or use the donation button here: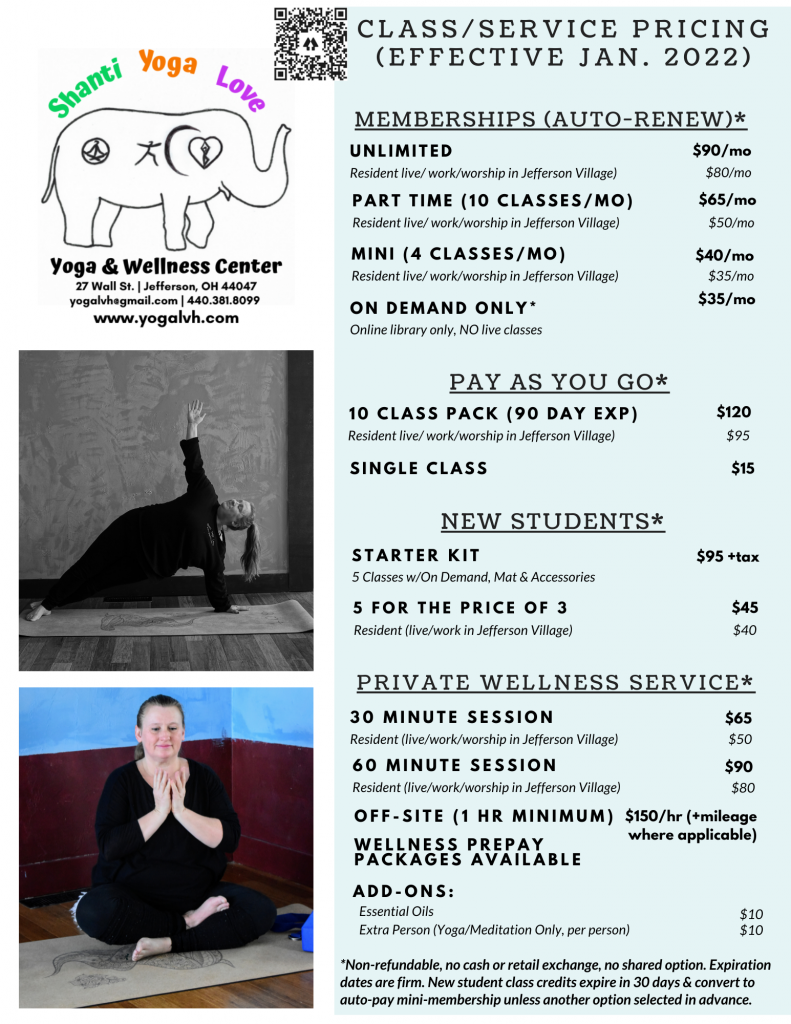 All pass, package & membership sales are final (group and private sessions). No refunds, cannot be exchanged for cash or retail items, no exceptions. Late cancellation/no show will result in charge or forfeiture of one pass credit. Additional options and special deals may be available. Follow this link to schedule classes, view package options and see special offers:
On Demand Video Class Library
Your favorite practices. Your favorite instructors. Anytime YOU need them. Plus we add an exclusive new class EVERY WEEK! This on-demand video class library is INCLUDED with all recurring monthly memberships. Prefer to pay as you go? We've got you covered. Follow this link to try the preview practices and join the "On-Demand club" today! shanti-yoga-love.teachable.com/p/shanti-yoga-love-membership
Special Events
Prices vary by event and provider. See individual event postings for prices. Event ticket sales are final. No return, refund or exchange unless event is cancelled.

Always in style, always the right fit. Get Online Gift Certificates Here 24/7!


Healing Arts / Wellness Services
See flyer above for current pricing. Here's a description of current services available…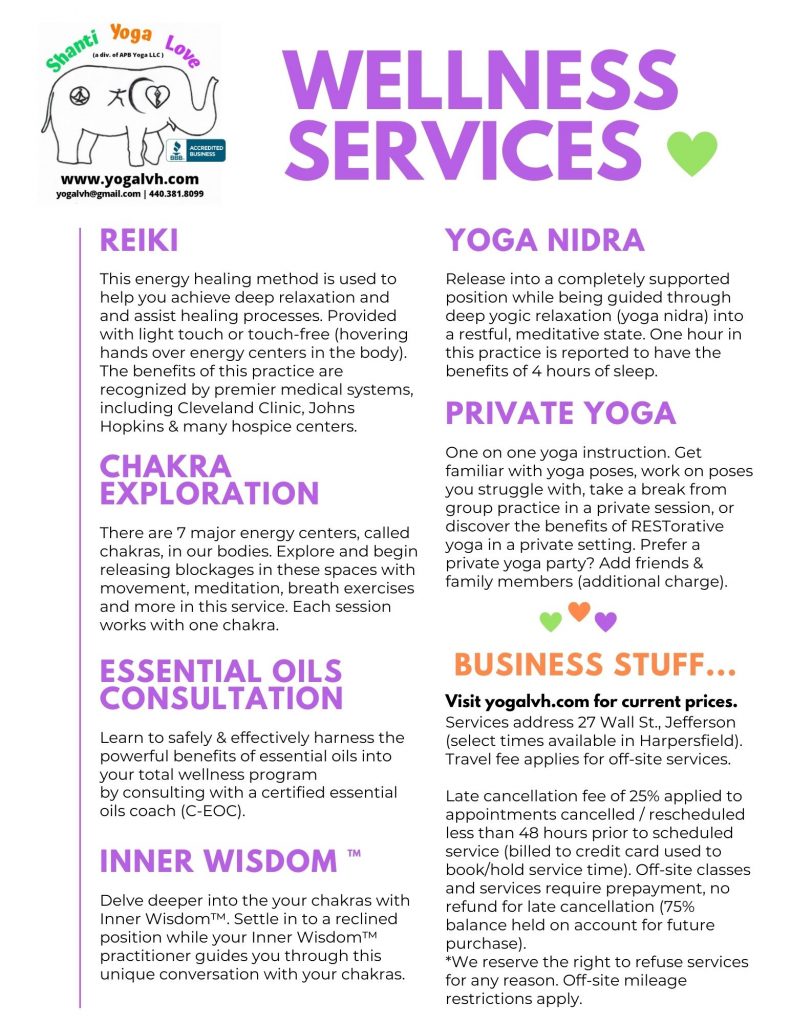 To view & schedule all services, add-ons and package pricing options, click the button here…

Late reschedule results in 25% charge (rescheduled less than 48 hours before scheduled service time) and all cancelled appointments. No refund for cancellations less than 24 hours prior to start or off-site (outcall) appointment cancellations (account credit if cancelled/rescheduled more than 48 hours in advance).
We accept Visa, Mastercard, Discover & AMEX, payments through PayPal and CashApp. Checks accepted from established clients and cash. Discounts availale for qualified individuals, contact Leah (yogalvh@gmail.com) for more information.
eGift Certificates Available
We sell eGift certificates!
A great idea any time of year eGift certificates can be redeemed for any class, service or event and retail items at Shanti Yoga Love. It couldn't be easier to make their day … just use the link below to order from the secure processing site then print, email or have us mail yours today!!
Gift Items, too!
We have something for EVERYONE on your list for ANY reason. Drop in to snag yoga class passes & accessories (mat, straps, blocks – or all of them in a starter kit); locally crafted spa items (like bath bombs, sprays and balms), coffee and tea gifts, too.
Prefer to shop online? Check out the gift certificate tab for online only deals, or use this button:

*Refund Policy
All sales are final. Memberships, passes, event tickets, wellness service & gift certificates cannot be returned or exchanged for cash. Refunds offered as account credit only for all classes and services. Class cancellations must be received 24 hours prior to start to avoid loss of payment or pass credit; service cancellations require 48 hour advance notice to avoid loss of payment/deposit. Off-site/outcall service appointments are non-refundable. Special event tickets are not refundable, please confirm dates and availability prior to booking.